Connect to Science from Your Smartphone with the STEM Starter Kit
C & A Scientific is plugged into educational products that grow STEM (Science, Technology, Engineering, and Mathematics) learning on a daily basis.
Our newest product, the STEM Starter Kit is helping kids get excited about science, putting their smartphones to an educational use!  Instead of playing mindless games or on social media, kids can clip on a powerful microscope lens and go exploring.
It's also a great way to introduce microscopes into the lives of children. Appropriate for children 6+, this kit includes our most sought-after cell phone microscope, the Smartphone Inspector with 2 light settings for UV and forensics viewing, and 15 different 3D specimens on prepared slides.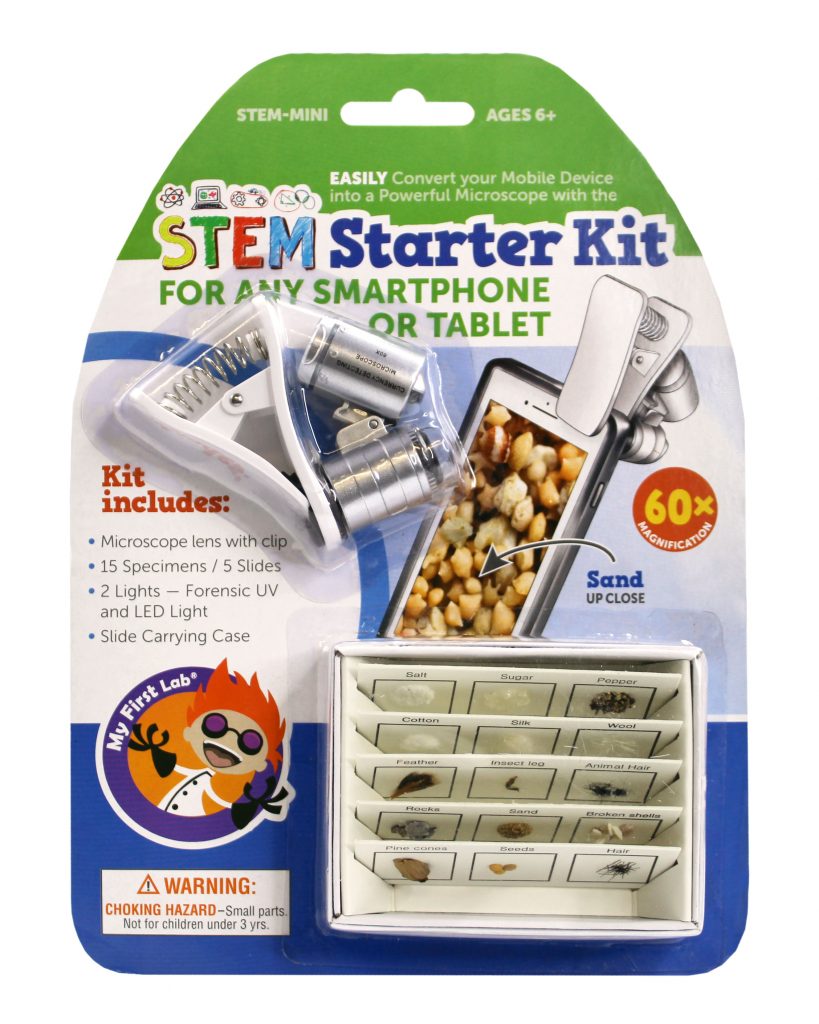 It's a simple 3 step process: 1) Choose your light; 2) Clip microscope over mobile device's camera lens; and lastly 3) Position lens over object and take your pictures or video! It's amazing!
Perfect at home, in the classroom, and as stocking stuffers!  The STEM Starter Kit is available for orders now.
"Parents and educators are serious about products that deliver hands-on learning – so are we", says Matt Swain, director of marketing at C & A Scientific.  "As the maker of medical grade equipment, our award-winning student educational microscopes, science kits and experiment kits are all focused on STEM.  The STEM Starter Kit includes 15 different slide specimens –common specimens like sugar, cotton, insect leg, sand, and even human hair!"
MSRP:  $19.99
How to Order: 
Call 703.330.1413 or email sales@cnascientific.com for retailer and distributor pricing.  
Orders are currently being placed – limited quantities available.  Product will ship to your store to arrive just in time for the holidays!